Session 19: Interview with Dr. Catherine Racowsky, The President of ASRM & Dr. Cristina Magli, Chair of ESHRE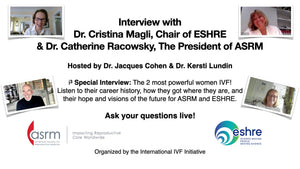 Session 19: Interview with Dr. Catherine Racowsky, The President of ASRM & Dr. Cristina Magli, Chair of ESHRE


Host Dr. Jacques Cohen & Professor Kersti Lundin

i3 Special Interview: The 2 most powerful women IVF!
Listen to their career history, how they got where they are, and their hope and visions of the future for ASRM and ESHRE.

Video 1: Session 19 - Edited interviews with live Q&A
Video 2: Dr. Catherine Racowsky, President of ASRM - Full interview
Video 3: Dr. Cristina Magli, Chair of ESHRE - Full Interview

Organized by the International IVF Initiative
---
Catherine Racowsky, Ph.D., HCLD
Dr. Catherine Racowsky is Director of the ART Laboratory at Brigham & Women's Hospital in Boston, Massachusetts and Professor of Obstetrics and Gynecology at Harvard Medical School. She received her Bachelor of Arts in Zoology at the University of Oxford, her Ph.D. in Reproductive Physiology from the University of Cambridge, UK and did her post-doctoral fellowship at Harvard Medical School.
Dr. Racowsky is President of the American Society for Reproductive Medicine (ASRM) and is a past president of the New England Fertility Society. She has served on several professional committees including the Society of Assisted Reproductive Technology Executive Council, the International Taskforce for Stem Cell Research, government oversight committees for reproductive medicine, and the ASRM Practice Committee. She is a past Associate Editor of Human Reproduction and Fertility & Sterility and is currently an Associate Editor of the Journal of Assisted Reproduction and Genetics, and a member of the editorial board of Fertility and Sterility and Reproductive Biomedicine Online. She was co-chair of the World Health Organization Work Group to write WHO Guidelines for IVF/ICSI. Her research interests include investigating the effects of maternal and environmental factors on egg quality, studying the molecular and cellular mechanisms underlying egg maturation in vivo and in vitro, expanding methodologies for assessing human embryo developmental competency, and improving quality control and quality management in the clinical IVF laboratory. She has authored over 150 peer- reviewed papers on various aspects of mammalian egg and embryo physiology, has published numerous news releases and book chapters, and has co-edited seven books.
Dr. Cristina Magli
Maria Cristina Magli, embryologist, coordinates the laboratories of the Italian Society for the Study of Reproductive Medicine (SISMeR, Bologna Italy) since 1995.
In ESHRE, she co-ordinated the Special Interest Group in Embryology, was member of the Executive Committee and Chair of Special Interest Groups. She is currently the Chair of ESHRE.