Session 7: Assisted reproduction in 2049: will there still be human embryologists?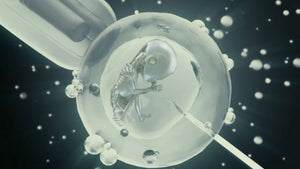 Session 7: Assisted reproduction in 2049: will there still be human embryologists?
Host / Moderator Dr Jacques Cohen & Giles Palmer
Soft robotics and potential applications in assisted reproduction
Prof Mini Saaj

Automated annotation of time-lapse
Dr. Arnaud Reignier

A simple and automatic procedure of IVF and Vitrification
Dr. Amir Arav

The robotic embryology lab in a tiny box
Ana Garcia Poyo
---
Professor Mini Saaj
Prof Mini C. Saaj is the Global Chair in Robotic Engineering at the University of Lincoln, UK, where she is also the lead for research in Industrial Digitalization and System Intelligence. Previously, she was the Head of Robotics and Control research group at the Surrey Space Centre, UK. Her expertise is in Space Robotics and cross-sector technology transfer to medical robotics and other terrestrial applications. As a roboticist and control engineer, Prof. Saaj has secured research grants over £4M as lead and co-investigator; she has published 100 peer reviewed articles. Prof. Saaj is a Chartered Engineer with the Engineering Council, UK and a Senior Member of IEEE and AIAA and a member of IEEE Women in Engineering. More details can be found at:
 

Dr. Amir Arav
Dr. Arav is a leading scientist in the field of cryobiology and reproduction. He founded Galcore ltd, IMT Ltd and Core Dynamics Ltd, all of these companies specialized in the fields of Cryobiology and were based on Dr. Arav's patents.

Dr. Arav has received his Bachelor degree of Animal Science from the Hebrew University of Jerusalem and his Doctor of Veterinary Medicine (D.V.M) degree from the University of Bologna, Italy. His PhD degree in neuroscience physiology and biomedical engineering was a combined project of the University of Bologna and the University of California at Berkeley. Post doctorate was done at the Center for Biostabilization, University of California at Davis.

He has published his research in over 150 scientific papers, in peer-reviewed journals. Filed over 60 patents and is the recipient of many prizes for basic and applied research.
Ana Garcia Poyo
Ana Garcia Poyo was named Vice-President of Operations of Overture Life in September, 2018. Previously she was CEO of Polyoptics GmbH, a German optics systems manufacturer for pharma and biotech applications. With more than 25 million systems produced under high precision and clean room conditions, the knowledge she gained at Polyoptics GmbH in process architecture and product scale-up has been key to transforming Overture's innovation into marketable and manufacturable products. Prior to this, she gained international experience in companies such as Zeiss Group, Eurospace or Kelox IRT, a company specializing in the design, manufacture and supply of Galley Systems for the public and private railroad industry in the US and Canada. As International Operations Manager, she led the engineering teams in multiple locations.

Ana holds a Degree in Industrial Engineering Diploma from the Universidad Pública de Navarra, and a Masters of Engineering, focused on Mechanical Engineering from the Technische Universität Darmstardt. She also holds a Project Management Associate Certification from the Deutsche Gesselschaft für Projektmanagement (IPMA). Most recently she studied an Executive MBA at IE Business School in Madrid.

Fluent in Spanish, French, English and German, Ana has lived and worked in Germany, Spain, Singapore, Brazil and the USA. She is able to adapt easily in multicultural environments, embracing diversity as a source of personal and professional enrichment.
Dr Arnaud Reignier
Arnaud Reignier is clinical embryologist at the ART Center of the University Hospital of Nantes, France. He is also a member of the UMR1064 research team, in the pluripotency and embryo development group. His main fields of interest are embryology, time-lapse, pluripotency and preimplantaton physiology.