Session 76: KPIS - KEEP PLODDING INDEFINITELY OR KEEP PERFORMING IMPECCABLY?!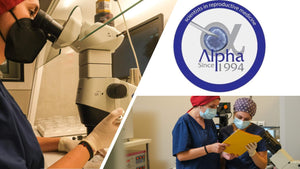 Session 76: KPIS - KEEP PLODDING INDEFINITELY OR KEEP PERFORMING IMPECCABLY?!
Tuesday 21st September, 2021. 3PM EST/ 8PM GMT / 9PM CET
Please join Alpha Scientists in Reproductive Medicine as we explore how to capitalize on all that lab data we collect, and how to make it work for us.


Moderators: 
Dr. Sharon Mortimer & Dr. Dean Morbeck

Presentations:

About Alpha - Dr. Sharon Mortimer

Are Our Current KPIs Doing Enough For Us? - Dr. Dean Morbeck

Are Our Lab Systems Working the Way WE Expect? - Panel presentation with Dr. Alison Campbell, Katie Heywood, Dr Aidita James and Dr. Jacques Cohen

Highlighting Risks or Errors in the Lab - Dr. Denny Sakkas


DR. SHARON MORTIMER
Dr. Sharon Mortimer graduated with a BSc (Hons) from the University of Newcastle, and a PhD from the University of Sydney. She became a clinical embryologist in 1985, and later a consultant in ART, involved in the development, design, and improvement of assisted conception programs, and has been a CFAS-certified ART Laboratory Scientific Director since 2013.
Sharon co-authored Quality and Risk Management in the IVF Laboratory (Cambridge University Press, 2005, and 2015 (2nd edition)), as well as more than 60 peer-reviewed publications and book chapters and eight international professional consensus guidelines. She is currently the Scientific Director of the Fertility Laboratory in St Johns, Newfoundland, an Adjunct Professor in REI at the University of British Columbia, a Science Section Editor for Reproductive Biomedicine and Society Online (2016–), and the President of Alpha Scientists in Reproductive Medicine.

DR. DEAN MORBECK
Dr. Morbeck is the Chief Scientific Officer of Kindbody, Inc., and is an Honorary Associate Professor in the Department of Obstetrics and Gynecology at Monash University. Dean was also an Associate Professor at the Mayo Clinic, and prior to that he was in private practice in the US for over 10 years. He obtained his PhD from North Carolina State University and his MBA from Augsburg College. His research has focused on quality in the laboratory – from culture media, protein and oil, to how embryologists grade and decide to use blastocysts.
DR. ALISON CAMPBELL
Alison Campbell is the Group Director of Embryology at CARE Fertility, where she leads 12 embryology laboratories and a team of 80 Scientists, in the UK and Ireland. Alison has around 25 years experience in the field in Reproductive Medicine. Alison has played a key role in establishing and integrating new laboratories. Her current role involves driving standards, best practice and leading research and development across the CARE group. Alison is an experienced Clinical Embryologist, a Diplomate of the Royal College of Pathologists, a member of the Alpha Scientists in Assisted Reproduction Executive Board and a member of ARCS and ESHRE.
DR. DENNY SAKKAS
Dr. Denny Sakkas received his undergraduate training at the University of Melbourne, Australia and received his Doctorate of Philosophy at Monash University, Melbourne, Australia.
Dr. Sakkas has been the Laboratory Director of IVF units in Switzerland and England and has aided numerous groups in establishing their own IVF units around the world. He has extensive experience in clinical IVF and reproductive research. He is internationally recognized, having organized conferences and workshops on reproduction related topics, and is frequently invited as a speaker at major conferences worldwide. He has published more than 200 manuscripts and chapters in the field of fertilization, early embryo development and male infertility. He serves on the Editorial Board of leading journals and has been extensively funded in his career, He leads a productive research team investigating many aspects of basic and translational reproductive biology.

Dr Sakkas is Chief Scientific Officer at Boston IVF and consults to a number of clinics and startup companies in the area of IVF. He is also an Adjunct Associate Professor at the Yale University School of Medicine.

Previous and current positions include; Chief Scientific Officer at Molecular Biometrics Inc.; Associate Professor at the Department of Obstetrics, Gynecology and Reproductive Sciences at the Yale University School of Medicine ; Director of Assisted Reproductive Treatment Laboratories of the Yale Fertility Center.
DR. AIDITA JAMES
Dr. James is a Board Certified High Complexity Laboratory Director (HCLD) specializing in Embryology/Andrology and is the Laboratory Director of the IVF Lab at the ART Institute of Washington, Inc. She completed her B.S. degree in Animal Science at Texas A&M University in 1995. Next, she earned an M.S. degree in Reproductive Physiology in 1997, specializing in hormonal manipulation of the equine estrus cycle. She acquired her Ph.D. from Louisiana State University in 2004 in Animal Science (Reproductive Physiology emphasis) by studying methods of preservation for epididymal sperm. Dr. James has worked in the field of mammalian embryology since 1994 and more specifically in human clinical embryology since 2000. She is a member of the American Society of Reproductive Medicine (ASRM), the American Society of Andrology (ASA), and the Society for the Study of Reproduction (SSR). Dr. James has also served as the Treasurer of the Alpha Scientists in Reproductive Medicine (Alpha), an international organization that represents and educates embryologists.
KATIE HEYWOOD

Katie is a clinical Embryologist at Cambridge IVF based in the UK. She completed embryology training at Newcastle before relocating to Cambridge and joining Cambridge IVF in 2011 just as the clinic was launched by Stephen Harbottle and Raj Mathur. When the global pandemic arrived and services at the clinic temporarily halted there was an opportunity to take stock and ask some questions of the data that they had gathering dust in the data cupboard. This presentation is about what happened next.



DR. JACQUES COHEN
Jacques Cohen is a reproductive biologist, laboratory product developer and high complexity laboratory director (HCLD). He is director and founder of the ART Institute of Washington, which runs the joint National Institute of Health and Walter Reed National Military Medical Center IVF program in Bethesda Maryland (USA). He is product developer and co-founder of IVFqc/Althea Science, which develops software solutions for laboratories and clinics. He was co-founder of Reprogenetics, a PGD service, now continuing as Cooper Genomics. He was a co-founder and product developer of Life-Global/IVF-Online. He has (co-)authored more than 300 publications, several textbooks and 12 patents. He is Emeritus Chief Editor of Reproductive Biomedicine Online. He was one of the founders of Alpha – Scientists in Reproductive Medicine and one of the founders of Preimplantation Genetic Diagnosis International Society - PGDIS. He is a founding member of the International IVF Initiative.

Jacques Cohen was born in The Hague, The Netherlands and graduated in Biology of Reproductive Science in 1978 at Leiden University, Leiden, The Netherlands. He has a Ph.D. from Erasmus University in Rotterdam (supervisor Prof. Gerard Zeilmaker), in aspects of in vitro fertilization and male factor infertility. His postdoctoral studies (1982-1985) were performed at Cambridge University (UK) and Bourn Hall Clinic (supervisor Prof Robert Edwards). Jacques Cohen has (co-)developed a number of embryological methodologies and devices: blastocyst cryopreservation, assisted fertilization, assisted hatching, preimplantation genetic testing, ooplasmic donation, single sperm freezing, CODA filtration, Global media, and GPS dishes. He currently serves on Advisory Boards of biotech startups TMRW, Kindbody, DADI and Phosphorus.