Session 17: Roundtable Discussion with Experts: Daily Hands on Management of IVF Laboratory / What Works and How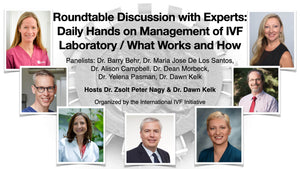 Session 17: Roundtable Discussion with Experts: Daily Hands on Management of IVF Laboratory / What Works and How


Hosts Dr. Zsolt Peter Nagy & Dr. Dawn Kelk

Panelists: Dr. Alison Campbell, Dr. Barry Behr, Dr. Dean Morbeck, Dr. Maria Jose De Los Santos, Dr. Yelena Pasman, Dr. Dawn Kelk

Organized by the International IVF Initiative


---
Dr. Alison Campbell
Alison Campbell is the Group Director of Embryology at CARE Fertility, where she leads 12 embryology laboratories and a team of 80 Scientists, in the UK and Ireland. Alison has around 25 years experience in the field in Reproductive Medicine. Alison has played a key role in establishing and integrating new laboratories. Her current role involves driving standards, best practice and leading research and development across the CARE group. Alison is an experienced Clinical Embryologist, a Diplomate of the Royal College of Pathologists, a member of the Alpha Scientists in Assisted Reproduction Executive Board and a member of ARCS and ESHRE.
Professor Barry R. Behr, PhD, HCLD
Professor Behr graduated from University of Nevada-Reno with honors and earned his Ph.D. with emphasis in Reproductive Physiology in 1991, board certified as High Complexity Laboratory Director in 1994.
Dr Behr was the first non MD President of the Pacific Coast Reproductive Society and has been appointed as program chairman of several professional meetings. Dr. Behr was the former President of the American Association for Bioanalysts for 2015-2016. He is the director of the IVF/ART laboratory at Stanford University and is the Faculty Advisor for the Transgenic, Knockout and Tumor Model Center.
In the 90's Dr. Behr developed a culture medium for embryo culture to the blastocyst stage, which has improved pregnancy rates, implantation rates and reduced the risks of multiple gestation in IVF. He was also the co-inventor of an embryo selection technology that was featured in Time Magazine's Best of Everything as 8th place in the top 10 Medical Breakthroughs of 2010. Dr. Behr has been widely recognized for his research nationally and internationally. He has published over 200 peer-reviewed publications and book chapters
Dr. Dean Morbeck
Dean Morbeck is the Scientific Director at Fertility Associates New Zealand, Sunfert International Fertility Centre, and an Honorary Lecturer at the University of Auckland. He oversees science in IVF clinics throughout New Zealand and Malaysia that annually perform >4000 fresh cycles. Prior to moving to NZ, Dean was an Associate Professor at the Mayo Clinic. He has a keen interest in quality of care, as evidenced by his publications on media composition and laboratory KPIs. He completed his MBA in 2015, which he is putting to use to improve both the science and patient experience at Fertility Associates and Sunfert. Dean is a shareholder of Fertility Associates and is on the Advisory Boards of Apricity, ARTCompass, The World Egg Bank and Vivoplex
Maria José de los Santos, Msc, Ph.D.
Dr. Maria J. de los Santos started her career in 1991 in the IVF laboratory of IVI Valencia. She received her PhD in Biology from University of Valencia in 1996, and from 1996-1999 she carried out her postdoctoral fellowship in Reproductive Immunology at Fearing Research Laboratory at Harvard Medical School, under the supervision of Dr. Deborah Anderson and Dr. Joseph Hill. She also worked as clinical embryologist at the Brigham and Women´s Hospital under the direction of Dr. Catherine Racowsky.
As a clinical ESHRE and ASEBIR Senior Clinical Embryologist and researcher her main focus is study embryo quality, embryo development and in vitro embryo culture conditions. Currently, she is the Director of the Clinical Embryology Laboratory at IVI Valencia and designated participant from Spanish Government for the 3rd and 4th edition of "Guide to the Quality and Safety of Tissues and Cells for Human Application" of the European Council.
She has published over 40 original "peer review" articles in leading reproductive journals (Hum Reprod, Fertil & Steril, PLos One, etc.) and wrote more than 20 book chapters.
She has also participated as researcher in competitive projects funded by Generalitat Valenciana (IMPIVA) and Spanish Government (CDTI).
Dr. De los Santos has been involved in teaching since his early career, imparting courses since 1996. Presently she is the Coordinator of two modules (The Clinical Embryology Laboratory and Improving Embryo Quality) from the Master's Degree in Biotechnology of Assisted Human Reproduction (former doctorate degree of the Pediatrics, Obstetrics and Gynaecology Department of University of Valencia School of Medicine) given by ADEIT since 2001.
Yelena Pasman
Yelena Pasman is a Senior Embryologist with over 25 years of experience in the areas of Genetics and Assisted Reproductive Technologies.
She received her doctoral degree in Europe and started her clinical laboratory career in 1988.
For the past 15 years, Yelena has assisted Medical and Laboratory Directors in overseeing the Clinical Laboratory Regulatory Compliance Operation. Yelena has performed over 2000 IVF embryology cases and over 600 embryo biopsies.
Throughout the years, Yelena has provided support in all areas of Clinical Reproductive Laboratory Services to medical centers in South America and the United States.
Yelena has worked collaboratively with My Egg Bank since 2013 and performed over 100 cases before she joined the team in January of 2018.
"It has been a privilege to work with many accomplished professionals in this constantly advancing field. I will continue to promoting excellence in all laboratory areas
Dawn A. Kelk, PhD, HCLD
Dr. Dawn Kelk, received her PhD in 1997 and HCLD certification in 2000. She has directed IVF laboratories in both Canada & the United States for both private & academic institutions. She has been Director of the IVF Laboratory at Yale Fertility Center and Associate Research Scientist at the Yale University School of Medicine since 2014. Prior to that time, she was IVF Laboratory Director at RMA of CT & the University of Colorado. Dr. Kelk's clinical & research interests are diverse, ranging from trophectoderm biopsy, PGT, vitrification of embryos and oocytes to analysis of liquid nitrogen cryo storage tank failure, laser impact on embryo biopsy and predictors of endometrial receptivity. Dr. Kelk is an active member of ASRM & SRBT.